In Memory
Thomas Lynn Bent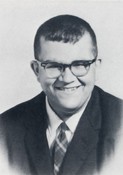 Thomas Lynn Bent
'Tom'
Mr. Bent, 61, of Matthews, passed away at home on Tuesday, October 16, 2007, with his loving family by his side. He was born in Roanoke, Virginia, and has lived in the Charlotte area since 1971. He was a graduate of Patrick Henry High School and Virginia Western Community College in Roanoke and Pfeiffer University of Charlotte. He was an Accountant in the Charlotte area for 35 years.
Prior to his own accounting firm and his association with Broniec Associates and Vitex, Inc. of Mooresville, NC, he worked at Belk Stores Services, Inc. for 26 years.
He was a member of Siler Presbyterian Church, an ordained Deacon and Elder in the Presbyterian Church, and served as Church Treasurer and a member of the Visitation Committee of East Presbyterian Church, Charlotte. He was also a volunteer with Junior Achievement and Friendship Trays. He will be remembered for his enthusiasm of all sporting events, his pride in having a spotless car, and his love for his family.
He is survived by his wife of 36 years, Elsie Ellis Bent; a daughter, Karen Bent Conklin and her husband, Jason, of Waxhaw; a granddaughter, Caroline Grace Conklin (Fifi) of Waxhaw; brother, Stephen Neil Bent and his wife, Holly, of Greensboro, NC; aunt, Evelyn Spencer of Cincinnati, Ohio; father-in-law, Manley Ellis and his wife, Eloise, of Monroe, NC; sisters-in-law, Helen Sims and her husband, Donald, and Janice McPherson and her husband, Dwight, both of Lancaster, SC.; and a very special friend of the family, Dawn Martin Thacker and her husband, Andrew, of Roanoke, VA. Also, he enjoyed the special times that he had with his friends, Cliff Cornelius, Charles Jacobus, Gary Griffin, and Mike Stout of Charlotte, Steve Kling of Roanoke, VA, and Amos Irwin of Simpsonville, SC.
He was preceded in death by his parents, Ibra and Marie Morris Bent, a brother, Gordon Lee Bent, his mother-in-law, Annie Grace Ellis, and special friends George Martin of Roanoke, VA, and Cliff Caldwell of Charlotte.
Funeral services will be 3:00 p.m., Saturday, October 20, 2007, at Siler Presbyterian Church, with visitation from 1:00 to 3:00 p.m. in the Fellowship Hall prior to the service. Memorials can be directed to the Building Fund of Siler Presbyterian Church, 6301 Weddington-Monroe Road, Wesley Chapel, NC 28104.